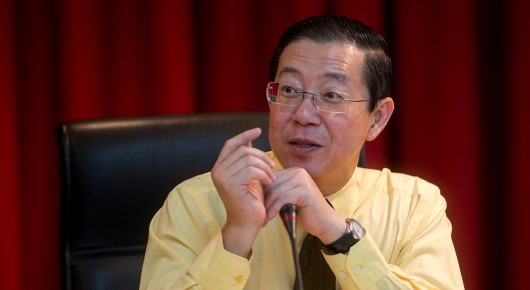 IN PICTURE: CHIEF MINISTER LIM GUAN ENG SAID THAT PENANG'S FREE WIFI SERVICE COULD BE EXPANDED, DEPENDING ON DEMAND. – THE MALAYSIAN INSIDER FILE PIC, OCTOBER 21, 2015.
Penang launched its new 3Mbps high speed free public WiFi for 50 hotspots in Komtar and George Town today, with Chief Minister Lim Guan Eng promising that the service would be expanded where necessary, in future.
Lim said there would be more announcements on the WiFi service when new hotspots were introduced.
"We are very happy that free WiFi in public places continues to be so popular. The Penang government believes that faster internet or digital broadband speed is necessary to becoming a high income economy and a developed nation," he said during the launch at his Komtar office today.
The latest upgrade costs an additional RM25,000 a month, but the amount is funded by service provider Redtone International Berhad, Lim said, as a bonus for the state and its people.
This means the state does not have to pay any additional sum to the RM1.85 million it is now paying annually for the service, introduced in 2009.
There are 1,560 hotspots in Penang. Before this latest upgrade, the service bandwidth was improved from 75Mbps to 375Mbps, giving users a faster speed of up to 1Mbps, from the previous 512kbps.
Redtone group chief executive officer Lau Bik Soon said those looking for the 3Mbps service could look out for stickers bearing the new logo.
He also said the service had become very popular, with usage increasing from 15TB to 30TB a month over the past few months.
High speed WiFi hotspots in Komtar include the Pacific Mall on level 1 and 3, above Maybank on level 2, the ICT@Komtar and bus station on level 1, Komtar Walk and government offices in Komtar on level 3, 11, 28, 47, 52, 53, 55, and 56.
Those in the heritage zone include the Penang Chinese Town Hall on Jalan Masjid Kapitan Keling, and selected business outlets on Lebu Carnavon, Lebuh Kimberley, Lebuh Church, Lebuh China, Lebuh Pasar, Lebuh Chulia, Lebuh Leith, Lebuh Muntri, and Lebuh Bishop.
Source: The Malaysian Insider