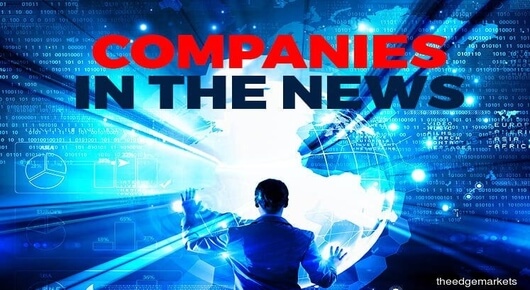 KUALA LUMPUR (June 25): Based on corporate announcements and news flow today, companies that may be in focus on Wednesday (June 26) may include: FGV Holdings Bhd, AirAsia Group Bhd, Malaysia Airports Holdings Bhd (MAHB), Hai-O Enterprise Bhd, Astro Malaysia Holdings Bhd, George Kent (Malaysia) Bhd, VS Industry Bhd and Redtone International Bhd.
FGV Holdings Bhd said major shareholders Federal Land Development Authority (Felda), Koperasi Permodalan Felda Malaysia Bhd and the Armed Forces Fund Board have voted against several resolutions on FGV directors' remuneration at the group's annual general meeting (AGM) here today.
FGV chairman Datuk Wira Azhar Abdul Hamid said the plantation group's board of directors had called for a meeting right after the AGM to discuss options to be taken, given the current situation.
Azhar said another FGV major shareholder, the Employees Provident Fund (EPF), had also raised remuneration-related concerns in a letter, especially regarding the amount for the chairman.
The EPF however, did not vote against the resolutions.
AirAsia Group Bhd today failed in its bid to obtain leave to challenge the Malaysian Aviation Commission's (Mavcom) refusal to mediate an ongoing dispute between the budget airline and Malaysia Airports Holdings Bhd (MAHB).
Senior federal counsels Shamsul Bolhassan and Mazlifah Ayob, who represent the Attorney-General's Chambers (AGC), told theedgemarkets.com that High Court Judge Datuk Nordin Hassan had dismissed the application for leave for a judicial review by AirAsia in chambers today, with no order as to costs.
Shamsul said the High Court agreed with the AGC that Mavcom has not decided on the MAHB-AirAsia dispute, but has merely deferred the decision.
"Thus, this does not amount to a decision that renders AirAsia adversely affected or aggrieved, and therefore entitles the budget airline to make the (judicial review) application," he explained. 
Hai-O Enterprise Bhd's fourth quarter net profit fell 36% to RM10.02 million, from RM15.69 million a year earlier, on lower revenue generated from its Multilevel marketing (MLM) and wholesale divisions.
Revenue for the quarter fell 37% to RM69.94 million, versus RM110.56 million previously.
Nevertheless, the group announced a final single tier dividend of nine sen per share.
For the full year (FY19), Hai-O said net profit fell 34% to RM47.41 million, from RM72.26 million in the previous financial year.
Full-year revenue fell 29% to RM328.35 million, from RM461.7 million previously.
Astro Malaysia Holdings Bhd's first quarter net profit grew marginally by 0.84% to RM176.20 million or 3.38 sen per share, from RM174.73 million or 3.35 sen per share a year ago, thanks to lower marketing and distribution costs, as well as lower finance costs.
Revenue for the quarter ended April 31, 2019 (1QFY19) fell 5.84% to RM1.23 billion, from RM1.31 billion previously.
The group said its marketing and distribution costs declined 27.7% during the quarter to RM92.4 million, from RM127.8 million a year ago.
Finance costs, meanwhile, decreased 12.53% to RM64.9 million, from RM74.2 million.
Astro has proposed a first interim single-tier dividend of two sen per share, payable on July 25.
On the other hand, George Kent (Malaysia) Bhd's first quarter net profit fell 37% to RM13.51 million or 2.5 sen a share, from RM21.54 million or 3.8 sen a share a year earlier, due to lower profit contributed by the engineering division.
Revenue for the quarter ended April 30, 2019 (1QFY19) dropped 17% to RM82.78 million, from RM99.76 million previously.
George Kent chairman Tan Sri Tan Kay Hock said the results were credible, in spite of a small loss from the LRT3 project, as construction works on the project has yet to begin.
Moving forward, the group said it is committed to delivering on its order book of over RM5 billion, which provides earnings visibility for the next few years, he added.
As for VS Industry Bhd, third quarter net profit grew 43.15% to RM31.38 million, from RM21.92 million a year earlier, on the back of higher sales from key customers in Malaysia.
Earnings per share for the quarter ended April 30, 2019 rose to 1.74 sen, from 1.32 sen.
Quarterly revenue, however, was up marginally by 0.92% to RM889.71 million, against RM881.6 million previously.
The group declared a third interim dividend of 0.8 sen per share for the financial year ending July 31, 2019 (FY19), payable on July 31.
For the first nine months of the financial year (9HFY19), VS Industry's net profit grew marginally by 0.09% to RM109.13 million, from RM109.03 million last year, while revenue was down 4.09% to RM2.95 billion, from RM3.07 billion.
Moving ahead, VS Industry said the financial performance of the group in the current financial year is satisfactory.
Redtone International Bhd's net profit for the fourth quarter ended April 30, 2019 rose 53% to RM4.8 million, from RM3.13 million in the previous year, thanks to higher revenue contributions from its managed telecommunication network services (MTNS) segment.
Earnings per share improved to 63 sen, versus 41 sen per share previously.
The group said revenue during the quarter rose by 132% to RM73.38 million, against RM31.61 million a year ago.
For the 12-month period, net profit rose 157% to RM15.36 million versus RM5.97 million previously, as revenue increased 52% to RM178.93 million, compared to RM118.08 million previously.
Moving forward, the group is of the view that the operating performance for the remaining period of the financial year will remain challenging and competitive.
Credit to: theedgemarkets