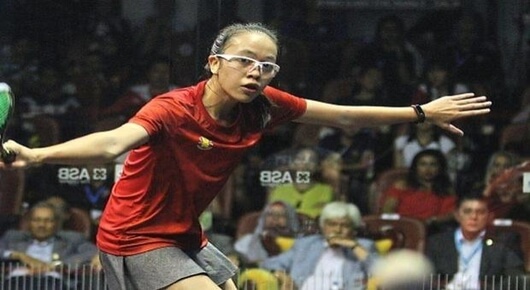 PUCHONG: Now that her SPM exams are over, national junior squash player Noor Ainaa Amani Ampandi can turn her full focus back to squash.
The 17-year-old will be looking to get her post SPM career off with a bang by lifting the Under-19 title at the REDtone Kuala Lumpur International Junior Open at the National Squash Centre in Bukit Jalil next week from Dec 3-8.
"I was still training during my exams but I cut it down from the usual two sessions a day to only one. It was not easy to balance both but now I can focus on squash again, " said Ainaa.
Expectations have been high on the youngster after she impressed at the girl's World Junior Team Championships in August helping her team to silver medal.
"The Grand Finals was the last tournament I played, so it will be difficult trying to get my tournament fitness back for this event, " said Ainaa during the launch of the event at the REDtone International Berhad office here yesterday.
"But after the World Junior Championships, a lot of players are looking at me to perform and seeing me as the one to beat."
"It's not easy to maintain my form, so I have had to work much harder to ensure I keep playing well."
Ainaa lived up to expectations when she lifted the Under-19 title at the CIMB Foundation Junior Grand Finals last month. As the top seed at the KL Open she will be hoping to do the same, especially since she was foiled in the semi-finals of the tournament last year.
Her toughest rivals next week will be national junior players Aira Azman, Jessica Keng and Amirah Rusydina Rosli.
"After last year, I definitely have to do better this year. I have to make sure I bring my best squash every day."
The 13th edition of the the KL Open will see 860 players compete for 12 boys' and girls' titles in six different age groups.
REDtone International Berhad group chief executive officer Lau Bik Soon said successful sports-based CSR initiatives have repeatedly proven to be a great catalyst for youth leadership development and gender equality.
"We are committed to making changes for youth empowerment through sports, " he said.
Credit to : The Star