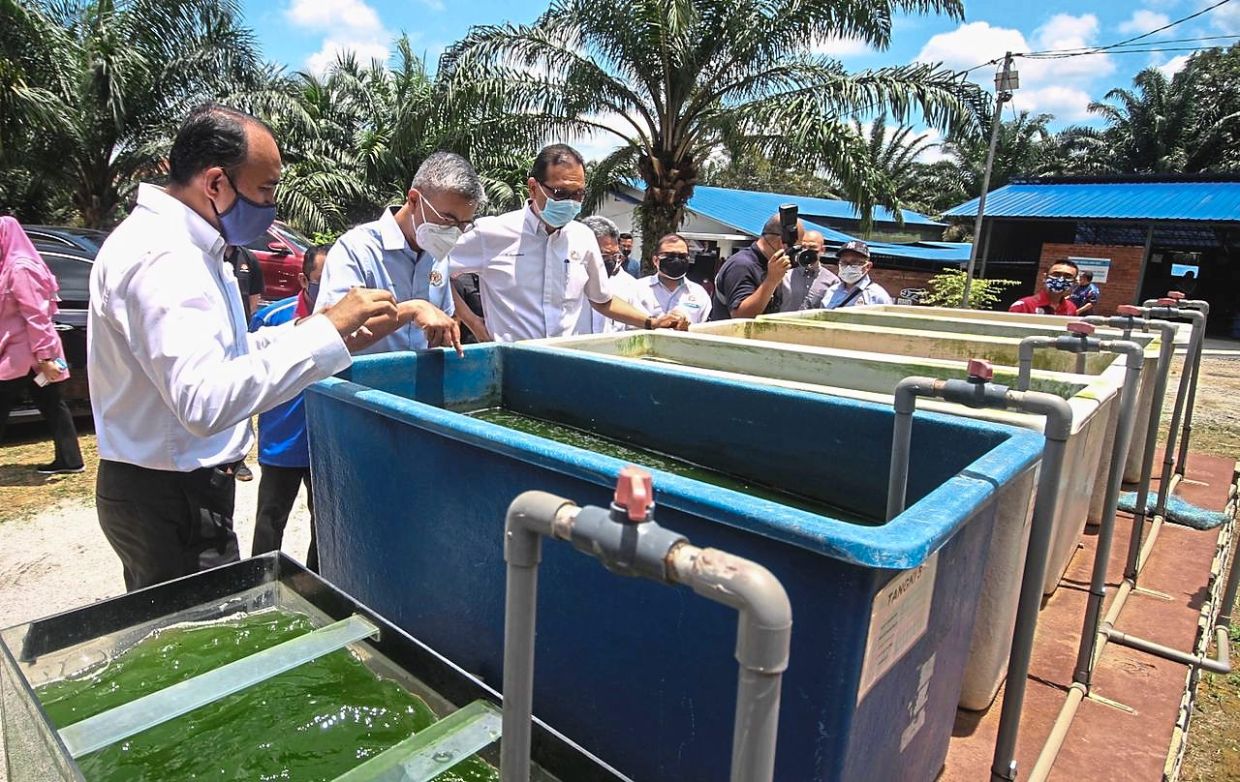 Finance Minister Tengku Datuk Seri Zafrul Abdul Aziz (second left) looking at some of the freshwater fish breeding tanks during his working visit to a breeding centre in Bukit Batu, Kulai, Johor.
KULAI: Food security and the agricultural sector will be among the main focus of the coming Budget 2022 in line with the government's socio-economic recovery plan and growth in the short, medium and long term, says Finance Minister Tengku Datuk Seri Zafrul Tengku Abdul Aziz.
These sectors will lay the foundation in reducing the country's dependency on imported food in the long run, he said.
"Food security is one of the elements that the government has always emphasised in our economic stimulus packages and Budget 2021.
"I believe that with strong cooperation between the state and federal governments, we could come out with large-scale agriculture projects that give high impact (on the economy)," he told reporters after visiting a freshwater fish breeding centre in Bukit Batu here yesterday.
Tengku Zafrul said RM3.15bil had been channelled to the agricultural sector through a stimulus package and Budget 2021.
"From that amount, RM1.75bil have been given to farmers, breeders and fishermen," he added.
Tengku Zafrul also said Johor had contributed much to the agricultural sector and agro-food sector. "This is in line with the government's aim to turn Johor into 'Malaysia's Food Basket' and develop a competitive agro-food industry," he said.
The initiative, he said, will be paired with financial incentives, grants and other government-led programmes under the state and federal governments.
Tengku Zafrul also said the ministry is working together with other ministries in finding solutions to the rising cost of chicken feed, including the possibility of providing subsidies to the chicken breeders.
He said the government is aware of the price increase in chicken meat and will seek a way to stabilise its price.
"Any decision would need to be looked into in terms of the impact on the breeders and industries involved and, most importantly, the effect on the consumers," he added.
It had been reported earlier that a discussion would be carried out among several ministries to search for a long-term solution.
On another matter, Tengku Zafrul had posted on Twitter that Bantuan Prihatin Rakyat (BPR) applicants can start checking their eligibility for the financial aid at https://bpr.hasil.gov.my.He said that some 200,000 citizens will benefit from an allocation of RM240mil.
"Payment will start at the end of September, God willing," he said.
Based on estimates made by the ministry, a total of RM6.5bil had been set aside in Budget 2021 for BPR.
In another post, Tengku Zafrul also said the new Prihatin Special Grant (GKP) 4.0 Phase 1 payments will start on Tuesday for about a million small and medium enterprises through an allocation of RM500mil.
"Checks can be done starting from Monday at https://gkp.hasil.gov.my," he said.
Source: The Star