HUAWEI COLLABORATED WITH REDTONE AND FUSIONEX FOR BIG DATA
26 May 2017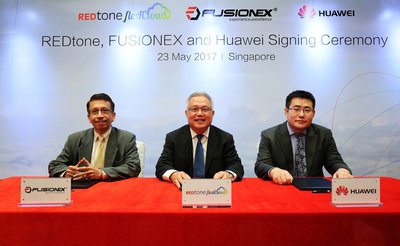 Huawei takes RedTone and Fusionex to strengthen big data technology. Huawei signed a Memorandum of Understanding (Mou) with RedTone International Bhd and Fusionex to develop big data technology to provide solutions for large density levels in Asia Pacific.
George Pan, Chief Technology Officer of Huawei Technologies Malaysia, said that based on Huawei's Global Connectivity Index 2017, a recent survey by Huawei, shows some countries are building infrastructure that requires the assistance of digital-based infrastructure.
"Huawei, a leader in the global telecommunications industry and ICT solution industry will be a solution of population density. We developed the network infrastructure," Pan said in Marina Bay Sands, Singapore, Wednesday, May 24, 2017.
Pan says Redtone FlexiCloud is a new breakthrough for dealing with human density, while Fusionex will contribute to international-class software providers, along with big data and Internet of Things (IoT).
Andy Yau, Chief Executive of Redtone, said the service will bridge human activities. But the main goal of this collaboration is to generate solutions and implement them in various sectors such as health, retail, and others.
"We are still evaluating, but the biggest is the retail sector where we can serve, not just business to customer but also business to business," Yau said.
Meanwhile, Raju Chellam, New Technologies Fusionex vice president, said it offers big data guarantee for private sector and government especially some sectors such as manufacturing, health for hospital, and retail.
"Indonesia is one of the fastest growing countries in Asia Pacific, it is also the right market for us to manage big data, and we can help Indonesia or Malaysia use this technology," Chellam said.
Fusionex calls the growth of big data in Indonesia about 20 percent to 25 percent in Asia Pacific. Chellam believes this cooperation optimize the market and affirm the importance of people's understanding of cybersecurity.
Source: Tinuku