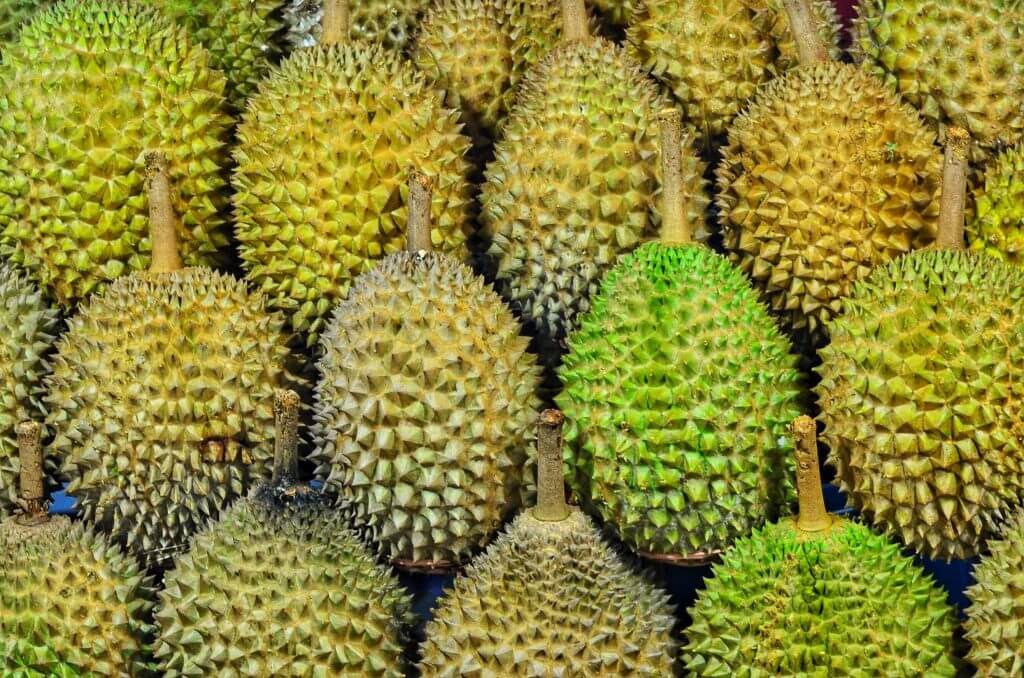 Inisiatif Bangi Golf Resort menganjurkan Festival dan Anugerah Durian 2018 merupakan idea baru bagi menyerlahkan pelbagai aspek durian dan membawa industri durian ke satu lokasi neutral melalui platform khusus.
Setiausaha Politik kepada Menteri Pertanian, Ahmad Sabki Yusof berkata, Malaysia berpotensi untuk dilihat sebagai pengeluar durian utama yang meningkatkan nilai komersial dan mendapat permintaan menggalakkan di tempatan dan antarabangsa.
Menurutnya, melalui kualiti durian, varieti dan penjenamaan durian yang baik, durian kini merupakan sumber kekayaan dan pendapatan yang baik untuk usahawan tempatan selain dapat memperkasakan petani dengan meningkatkan status sosio-ekonomi.
"Kementerian menyokong usaha yang dilakukan oleh pihak yang terlibat termasuk Institut Penyelidikan dan Kemajuan Pertanian Malaysia (Mardi) dan Redtone sebagai pihak yang menerokai pembangunan penyelesaian perladangan pintar.
"Saya berharap lebih banyak lagi perkongsian awam dan swasta diwujudkan untuk terus membina negara seperti yang dilancarkan dalam Festival dan Anugerah Durian di sini," katanya yang mewakili Menteri Pertanian, Datuk Salahuddin Ayub melancarkan Festival dan Anugerah Durian Bangi Golf Resort di Bangi Golf Resort hari ini.
Beliau berkata, Bangi Golf Resort telah menetapkan piawaian untuk inovasi dalam teknologi masakan dan mengetuai reka bentuk dapur masa hadapan di hadapan untuk industri perhotelan di seluruh rantau Asia Tenggara.
Katanya, visi Bangi Golf Resort terhadap kelestarian makanan dan pengurangan sisa telah mendorong mereka untuk mengadopsi konsep 'Farm to fork, Fork to farm, Farm Circular'.
"Dengan adanya acara ikonik ini, Bangi Golf Resort telah melangkah lebih jauh dan saya pasti Bandar Baru Bangi akhirnya akan menarik bukan hanya penduduk tempatan, tetapi juga pelancong dari seluruh dunia dengan tarikan-tarikan baru ini," katanya.
Sementara itu, Ketua Pengarah Mardi, Datuk Dr Mohamad Roff Mohd Noor berkata, beliau percaya inisiatif pihak hotel mencari idea terhadap kelestarian makanan dan pengurangan sisa makanan itu membantu mengurangkan isu pembaziran di samping mewujudkan sebuah persekitaran yang sihat dan dimanfaatkan sebaiknya.
Katanya, dengan adanya teknologi dan kepakaran yang ada memberi peluang kepada pelbagai pihak melihat sendiri usaha pihak hotel mengembalikan kegemilangan raja buah yang bakal menjadi tarikan di kawasan itu.
"Saya yakin kolaborasi ini mampu menarik minat pelancong asing menikmati gaya agro pelancongan baru dalam membangunkan pertanian lot dan pertanian pintar bersama pihak terlibat.
"Di samping itu ia juga sebagai langkah melestarikan alam dan menggalakkan orang ramai berpeluang mengenal durian yang jarang ditemui selain mendapat pemahaman yang lebih mendalam mengenai durian," katanya.
Source: Sinar Harian