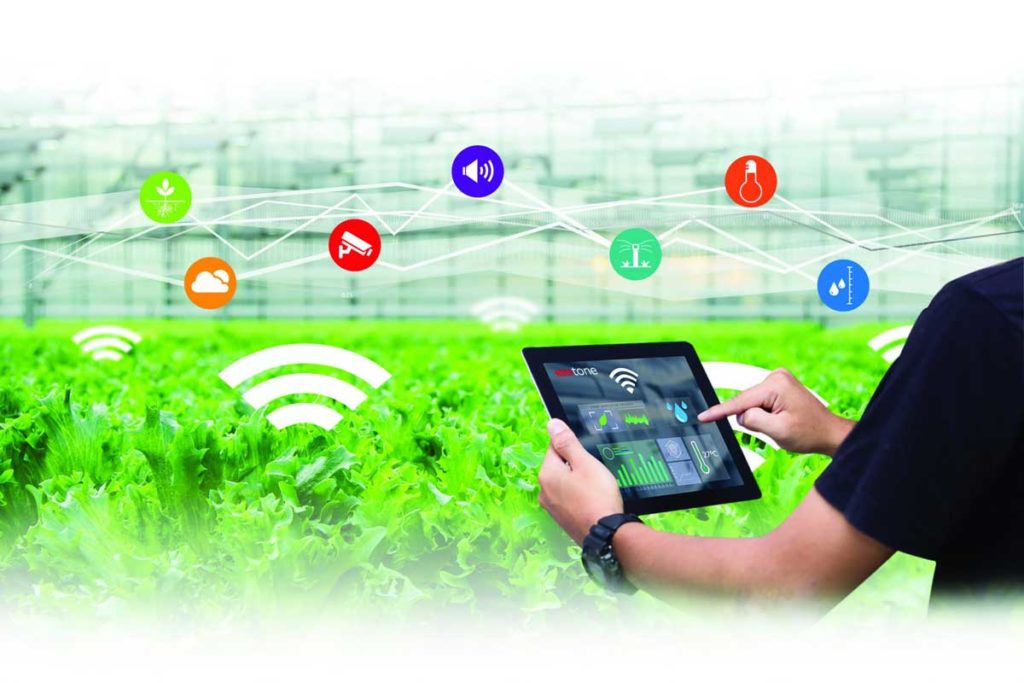 According to the United Nations, the world's population is estimated to increase by 29% to 9.8 billion in 2050. This will put enormous pressure on the world's resources, particularly the agriculture sector. It is therefore essential to develop sustainable measures that will significantly increase output to meet the demands of an ever-increasing global population.
The agriculture industry needs to transform to match the demand. One way to address these issues while simultaneously increasing the quality and quantity of agricultural production is to implement technology-driven farming or IoT-based farming.
In the last decade, industrialised and digitised farming has become more commonplace and is spreading fast, creating significant disruption in the agricultural landscape.
The global smart farming market is expected to reach $23.14 billion by 2022, rising at a compound annual growth rate (CAGR) of 19.3% from 2017 to 2022.

– (Source: BIS Research)
IOT-BASED / SMART FARMING
Smart farming, or IoT-based farming, is changing agricultural practices and predictions. Taking advantage of the real-time data captured by IoT sensors, farmers can predict the weather, check soil and water conditions, prevent diseases and manage crop conditions. These smart solutions ensure crops are well nourished and watered without human intervention. The data collected from sensors are stored in the cloud and can be easily accessed using a phone, tablet or desktop computer at the farmer's convenience.
IoT-based farming solutions have become more affordable for farm owners as farming sensors are now smaller, more sophisticated and cheaper. On top of that, network infrastructure and connectivity are more accessible, intelligent and secure than ever before.
Weather prediction as well as water and soil monitoring sensors help maintain a perfect microclimate and environment for optimal plant growth.
24/7 CCTV remote monitoring via mobile phones/tablets is an efficient intruder and theft deterrent, especially for fertiliser inventory and daily operations monitoring.
Better control over internal processes helps lower production risks. The ability to anticipate production output allows farmers to plan for better product distribution.
Enjoy better cost management and waste reduction thanks to increased control over the production. Being able to see any irregularities in the crop growth means the risk of losing yields can be mitigated.
Increased business efficiency through process automation from product tracking to distribution tracing and analytics. A tracking system checks the authenticity, place of origin, packaging date and logistics information.
Enhanced product quality and volume. Achieve better control over the production process and maintain higher standards of crop quality and growth capacity through automation.
A Beecham Research report found that close to 70% of the total fresh water supply in the world is used by the agriculture sector. This underscores the importance of optimising irrigation management with technology and cutting down on the wastage of water resources. According to OnFarm, smart farming helped reduce the total amount of water required for irrigation on a farm by as much as 8%. Technology has helped bring down per-acre energy costs by nearly $6 as well. There have also been gains in terms of fertiliser cost reduction.

– (Source: www.iotone.com)
THE STAKEHOLDERS
Stakeholders in the smart agriculture value chain include device and equipment manufacturers, connectivity providers (telcos), application providers as well as hosting and analytic providers.
Telcos can support IoT-based farming deployment at multiple levels. Beyond connectivity, they can provide provisioning, security, billing, device management, location-based services, application enablement, analytics services as well as system integration.
From our perspective, REDtone has been taking the lead in driving the innovation, awareness, collaboration and adoption of IoT-based smart farming solutions in Malaysia. Leveraging our Group's strength in integrated networks with multiple last-mile technologies, mobility infrastructure, cloud, big data and various analytics platform, we believe IoT-based farming is poised to revolutionise the agriculture sector in Malaysia and improve the quality and production/yields of agriculture.
REDtone precision farming provides accurate real-time data on soil and water content; weather prediction; information on pest infestation derived from big data, soil quality; CCTV monitoring even in remote areas, in addition to a tracking system from product to distribution.
"For centuries, farmers have planted and harvested according to seasonal cycles, using old school knowledge to predict weather that could threaten crops and livelihoods. However, today some farms are installed with sensors and farmers can manage their farms from a laptop or even a handphone."

– Mr. Lau Bik Soon, REDtone Group CEO
THE CHALLENGES
There are definitely challenges that farm owners need to be aware of if they are considering investing in IoT-based farming.
The sensors/hardware
Before an IoT-based farming solution can be deployed, farmers will need to decide on the kind of information that they would like to collect and the purpose of the solution. This will help determine the types of sensors to be installed on the farm. Also, the quality of the sensors is crucial too as it will determine the accuracy and reliability of the data collected.
The brain
The core of any smart application deployment is the ability to analyse the data collected and make sense of it. Farms would only benefit from the smart solutions if they have the necessary data analytics and apply predictive algorithms capabilities in order to facilitate actionable plans based on the collected data.
The maintenance
The maintenance of sensors and hardware is a challenge as sensors are typically used on the farm and can be easily damaged. Thus, farmers need to make sure the hardware is durable and easy to maintain.
The connectivity
All connected devices should be autonomous and have enough wireless range to communicate with the other devices and send data to the central server, so that farmers are able to access to information on site or remotely via a smartphone, tablet or desktop computer. Nevertheless, most farms are located in remote areas which means the cost of connectivity could be a substantial investment.
The long term support
To ensure that their smart farming application performs seamlessly, farm owners will need to build a long-term relationship with a reliable solution provider, one that can be counted on to provide good after sales support, training and equipment maintenance.
THE "CONNECTED FARM" IS THE FUTURE OF FARMING!
At REDtone, we are committed to growing a partnership ecosystem for technology collaboration. We believe that this is key to maximising value and enhancing the economic vitality of IoT-based farming projects. Working closely with our strategic partners, we provide end-to-end services from farm survey, solution design, planning, testing and integration to the implementation of solutions.
To receive professional consultation from our IoT-based farming experts, get in touch with us via email or request a quote using our contact form.