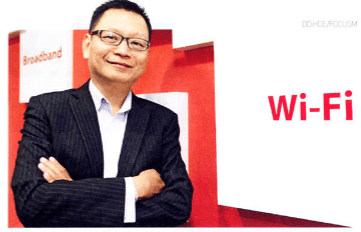 Integrated telecommunications services provider, REDtone International Bhd is confident it will achieve a better performance in the financial year ending April 30, 2o18 as it focuses on its core competencies.
REDtone rationalised its business after exiting non-core businesses in China last year and has since realigned its strategies to focus on three pillars of growth. These are telecommunications services, managed telecommunications network services (MTNS) and industry digital services (IDS).
"We started to turn a profit in Q41FY17, coupled with the fact we've sold off the loss-making China business, we will not see negative impact from it in this financial year (FY18) and we do expect more positive results moving into FY18." its group CEO Lau Bik Soon tells FocusM.
In Q4FY17, REDtone returned to the black with a net profit of RM2.51 mil from a net loss of RM23.53 mil a year ago despite a lower revenue of RM41.39 mil versus RM51.81 mil.
For the full year, REDtone posted a net loss RM4.89 mil on the back of RM156.52 mil revenue as it was hit by significant costs incurred on MTNS projects, impairment on non-trade receivable and loss-making China operations.
The China voice business had continued to decline considerably while the motor inspection business failed to take off, it adds.
The company chalked up improved results with a net profit ofRM1.1 mil in the first quarter ended July 31 from a net loss or RM1.6 mil a year ago while revenue declined to RM30.23 mil from RM38.45 mil.
The company has been in the red in the last two consecutive financial years with accumulated losses of RM10.81 mil as of April 30.
REDtone, which is a 51.71% subsidiary of Berjaya Corp Bhd. is chaired by Tunku Tun Aminah, the daughter of the Sultan of Johor, who owns a 17.91% stake in the company.
Looking at digital growth
Although telecommunications services and MTNS will continue to be the key drivers of growth, Lau says IDS, which is currently in its growth phase, is seeing fast adoption and will contribute more over the next few years.
In FY17, telecommunications services contributed 53.8% to revenue, followed by MTNS with 43.8%.
"Telco services and MTNS are recurring businesses and give us sustainability. What this means is we will always start with that base and as we get more business, it stacks up on top. So every year is going to be a new height for the business as we acquire customers." Lau says.
IDS runs on the infrastructure REDtone has built, was introduced via the rollout of business-to-business (B2B) Cloud flexiCloud 2.0 in its previous financial year and is designed to facilitate enterprises' journey to the Cloud.
It has three core businesses – B2B Cloud, Internet of Things/smart city, and teleradiology.
When it comes to the Cloud, the time is ripe for a faster pace of adoption as companies have become more aware of its benefits. On demand availability, reliability and scalability are among the top reasons businesses are considering moving to the Cloud.
"Over the last one year, we've gotten a lot enquiries from SME and enterprise customers about the Cloud in the past, they always queried about our data centre services such as hosting. business continuity or disaster recovery. The acceptance level has reached a stage where companies are ready for adoption." Lau adds.
However, there are still challenges as some companies are hesitant to move to the Cloud due to data security concerns.
Lau, says this is where REDtone has an advantage as a service provider, as it understands cyber-security threats not only from the data centre perspective but also from the network perspective, and already offers services to mitigate such threats.
"The biggest concern for customers is data security. I believe that's what's really stopping organisations from adopting it at a very fast pace," Lau explains.
"A lot of cybersecurity threats come from the network. You have situations where websites become inaccessible, ransomware lock up your files or jam up your website and network so users cannot access it and demand a ransom to unlock it," he explains.
Lau says what the group wants to do via IDS is help its customers use Cloud as a catalyst for digital transformation.
Expanding in the region
REDtone's Cloud focuses on enterprise customers, where the requirements are "a lot more complicated" than for the public Cloud.
As such, it does not compete with public Cloud players but offers a service that combines infrastructure-as-a-service, platform-as-a-service in the form of software development and Big Data analytics and software-as-a-service, where it works with software vendor partners to port their applications to its Cloud that customers can then subscribe to.
REDtone will also focus on certain verticals. including retail. health, smart city and supply chain logistics, where the company believes it understands customers' needs and can deliver value.
Today, the adoption of Cloud is probably easier for SMEs "because they have fewer legacy systems, so its easier for them to move compared to enterprises. where the environment would be more complicated". says Lau.
While he declines to share the exact ratio of REDtone's SME and enterprise customers, only saying it's a mixture of both, an industry player says SMEs should be the main target market for Cloud service providers owing to its attractive cost-benefit ratio.
"It has to be the SMEs … those that do not want to invest in expensive infrastructure but still need to have benefits of having dedicated infrastructure for their IT requirements at much lower costs of ownership," the industry player adds.
Moreover, IDS provides the means for regional expansion due to its virtual nature. Similar to how companies can scale easily using the Cloud, these services also enable REDtone to expand to other countries in without the need for big investments and resources.
"These are in the area of our abilities to serve and provide positive impact to organisations by offering reliable digital infrastructure and services. IDS is still new but has the capability to grow via regional expansion because these are the services that allow is to go regional," Lau explains.
REDtone is already embarking on its regional plans for IDS by working with partners in Asean and South Asia and is eyeing countries such as Indonesia, Vietnam, the Philippines, India and Sri Lanka for FY18.
In teleradiology, for instance, REDtone has received a grant of over RM2o mil from the Malaysian Industrial Development Authority to set up a teleradiology exchange, where a pool of radiologists in the region will interpret medical images remotely.
"What we're also doing now is actively engaging our partners overseas to explore opportunities in their countries. Currently, its still only in Malaysia, but in the near future, we're looking forward to have some success (with teleradiology)."
"We're trying to enlarge our revenue base with the same customers, so we're always on the lookout and exploring new services (to offer). We want to focus on areas (in which) we do very and that we have leadership in.
"Any expansion has to be something that value adds to our core business. Just like when we went into IDS, we saw it as a complement to the infrastructure business that we're in." Lau concludes.
Source: Focus Malaysia (Edition 30 Sept 2017)