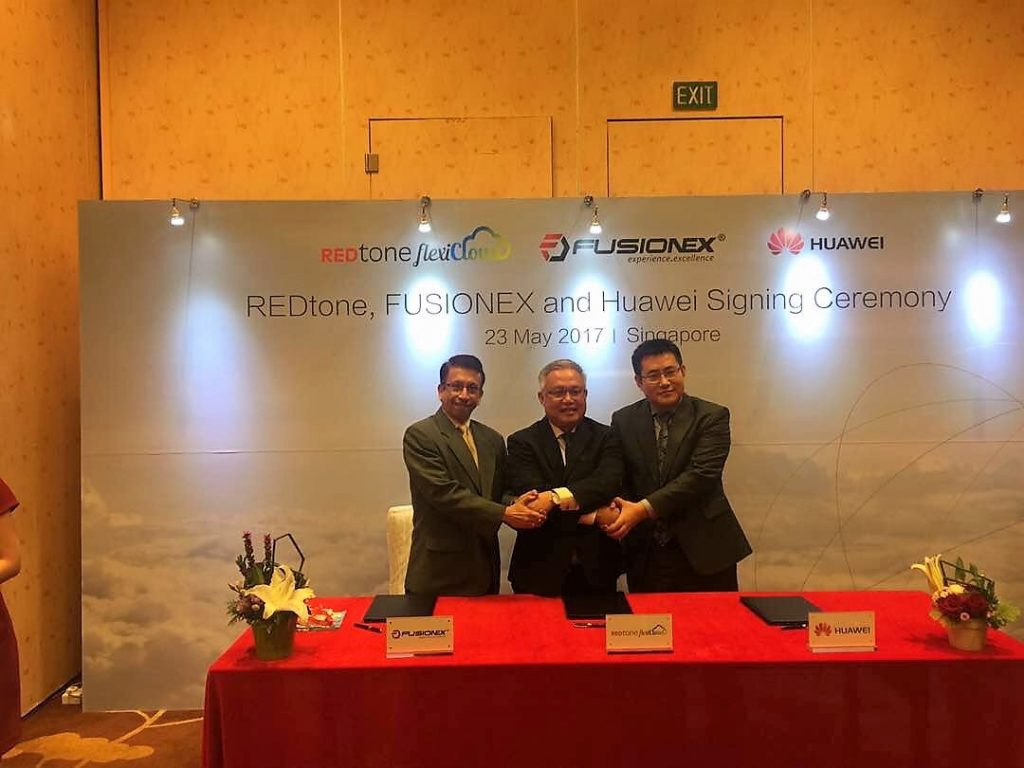 Huawei Malaysia and REDtone has jointly signed a cooperation agreement during the Huawei Cloud Summit 2016 in conjunction with Huawei Malaysia 15th anniversary. This agreement sees Huawei and REDtone joining effort in solution cooperation for the Business-to-Business (B2B) Cloud Service industry.
The signing was attended by Andy Yau, Executive Officer, REDtone Data Centre and Jimmy Jin, Director of Data Center Dept, Huawei Malaysia. Witnessed by Lau Bik Soon, Group CEO REDtone International Bhd, Zhou Jianjun, Carrier Business President, Huawei Southern Pacific Region, Dato Wei Chuan Beng, Group Managing Director, REDtone International Bhd, Kevin Zhang, Corporate Marketing President, Huawei.
REDtone has enhanced their cloud platform from basic virtual machine to high availability multi-site support. Together with REDtone's Software-as-a-Service capability, the joint effort provides customers an end-to-end solution to their IT needs. This cloud platform is overall built on Huawei's IT system including server, switch, storage, firewall and OpenStack cloud Operating System.
To understand more about what exactly the REDtone/Huawei partnership is offering, DSA sat down in an exclusive interview with Khoo Boo Gee, Senior Solution Director, Southern Pacific Data Centre Marketing and Solution Sales Department; Lau Bik Soon, Group CEO, REDtone International; and Andy Yau, Chief Executive, REDtone Data Centre.
Lau explained that they don't serve consumers, but have a heavy focus on "SMEs through to government agencies."
"[I believe] this is exactly the right segment and right timing to get into cloud. For businesses born in the cloud – the online companies, it's straightforward for them. What we believe we are attracting today are those considered to be "traditional premise based" IT environment. They see benefit, they know what they should do, but not sure how to get there."
Lau was very positive that the combination of expertise in local market knowledge, as well as Huawei's technology they can make a difference in cloud adoption in Malaysia.
Andy tells us cloud is an ideal investment model, since there is no CAPEX, businesses can trial and learn as they go. "I think that would be a driver for adoption."
Within ASEAN, security is a major concern and Andy tells us a lot of focus in their solution offerings is about security. "A lot of SMEs probably do not have the ability to put in as much security functionality in their facilities. In fact, cloud comes equipped with security as part of that facility, in a way it's an improvement."
We posed the question to Andy, if the level of security provided by cloud service providers are sufficient for SME. He very confidently answered "Yes, I'm very sure about that."
Now, it's not the first time we've heard about Telcos moving into the cloud sphere. And indeed, earlier in the interview, Lau was quick to emphasise that telco and IT industry is merging – more and more business requirement today has moved to the cloud. However, it does take a lot more as a telco to be playing in the big pond where big fishes like AWS and Azure swim in.
In my interview with REDtone, I'm not sure I am able to get as much details as I would like. We couldn't tell you what exactly they are offering, or indeed what their differentiating factor is. REDtone told us that "Elasticity is the keyword – we are very customer centric. Depending on what environments they need, it is made available in this platform REDtone is running on."
Ok, on the surface that sounds brilliant. However, it is also curious from our perspective, to hear a CSP putting a lot of focus on their connectivity and infrastructure. "Cloud is beyond datacenter – it's also about the connectivity." Indeed, REDtone is a telco, and in their core, that will be their expertise and forte. But when you are trying to break in to the field of cloud, we think it's about applications, performance and data management.
In REDtone's words, their differentiating factor is in their support. "A lot of bigger names offer standard packaging – it's self-serve, and you can do what you want. If you need support, it's not necessarily there. We differentiate through supporting customers within Malaysia, as of now. We are a phone call away."
With this partnership, a lot of focus revolved around Huawei's openstack capabilities and contributions. Huawei spokesperson Khoo prides that "Huawei is a major contributor to the openstack community." With big names like Red Hat swimming in that end of the pond, again we were curious to how Huawei differentiates themselves from the prominent players. According to Khoo, "They [Red Hat] are concentrated on the enterprises and the small businesses. We are concentrating on a higher market."
"We have development lab all over the world. Our developers in India, America and Europe are very actively contributing to the codes, we are not just China based."
From a DSA perspective, we are only able to tell you they seem quite sure about their capabilities and providing the right infrastructure according to user needs. Direct from Huawei, "We will give them the best technology that we have on hand today. We don't OEM for others, but we definitely R&D our own equipment. With the different technologies we provide, we came up with different business models based on what the customer requires."
With all of that said however, we have seen many big name telcos tried and failed in the cloud arena. While we don't doubt both companies are excellent in their respective expertise, namely connectivity and infrastructure, we aren't sure they have a full sussed out plan on how they should be approaching customers as a CSP; not to mention stacking against popular long term industry heavyweights in the CSP segment.
So far, REDtone claims they have 2 architected sites of datacentre, but no clarification was made on the actual number of physical sites they do have. Failover capabilities are available per customer requests, and QoS policies are noted to be in place.
It remains to be seen if they are able to be what iflix is to Netflix in Malaysia; we certainly would love a good local success story. At this moment in time, with what available details we have, from DSA perspective this telco/infrastructure partnership is about to go on a steep learning curve. They will need to adapt and learn quickly if they are able to vie on equal terms with the more application focused cloud providers who are leading the charge right now.
Source: Data Storage Asean