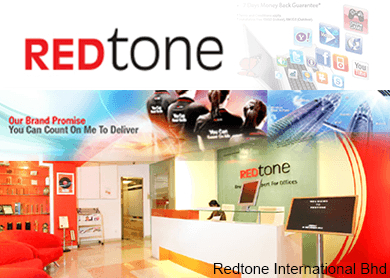 Integrated telecommunications service provider REDtone International Bhd today announced its strategic tie-up with Huawei Technologies for cloud infrastructure services.
According to the company, Huawei will provide a light yet elastic set-up that allows REDtone to scale up rapidly without incurring high set-up costs for several of its flexiCloud solutions — its latest offering under managed value-added services that was launched today.
The managed value-added service is one of three of REDtone's core businesses. Other offerings in this category are data service centres, healthcare solutions, and Internet of Things (IoT) solutions.
"Huawei's commitment to continually, without limit, scale up REDtone's cloud infrastructure as it grows its cloud business will enable REDtone to grow to become the largest cloud platform provider in the country," said REDtone Data Centre Sdn Bhd chief executive Andy Yau at today's media briefing.
REDtone also announced it is poised to operate the largest Business-to-Business (B2B) cloud platform in Malaysia following the launch of flexiCloud, which is specially developed to target small medium enterprises (SME) and enterprises.
Essentially, flexiCloud offers Malaysian-based companies an opportunity to have their cloud services hosted locally rather than in neighbouring countries.
"REDtone flexiCloud offers comprehensive, scalable, flexible and cost-effective solutions for businesses to align their IT infrastructure with their business strategy with efficiency, securely and with no or minimal capital expenditure required," said REDtone.
Included in the flexiCloud solutions are flexiCompute, which offers enterprise-ready infrastructure to build, manage and control computing resources in a robust private cloud computing infrastructure; flexiBackup, which provides seamless and efficient back-up and restoration of data and information; and flexiDR, which offers flexible and cost effective way to disaster recovery.
Also part of the flexiCloud solutions are flexiPaaS, which offers platform as a service, and flexiSaas, which offers software as a service.
With regards to the rollout of flexiPaaS and flexiSaas, REDtone will partner four established software and services companies — Fusionex, Kingslake, Lambda Technologies, and Cloud Raxak.
An agreement signing was held between REDtone Data Centre and its five partners today.
At 2.58pm, shares for REDtone traded unchanged at 52 sen, valuing it at RM387.6 million.
Source: The Edge