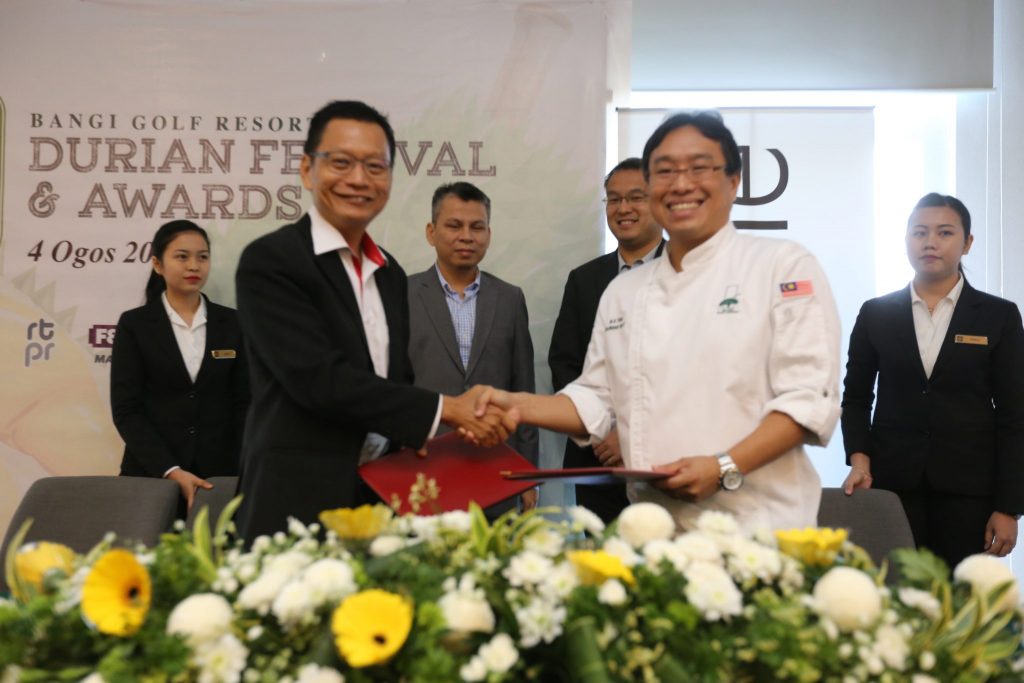 REDTONE IoT Sdn Bhd (RISB), a wholly-owned subsidiary of REDtone International Bhd, had entered into a Memorandum of Understanding (MoU) with Bangi Farm Resort Sdn Bhd (BFR) to jointly explore the development of smart farming solutions in a bid to increase the quality and production of durians in Malaysia.
Parties to the MoU were represented by REDtone group chief executive officer Lau Bik Soon and BFR director Tan Ban Keat. The signing ceremony was witnessed by political secretary Ahmad Sabki Yusof, representing the Minister of Agriculture and Agro-Based Industries Salahuddin Ayub.
Leveraging on REDtone Group's strength in integrated network with multiple last-mile technologies, mobility infrastructure, cloud and various analytics platform, the IoT-based farming solution is expected to improve the quality as well as increase the production of durians (including Musang King) to meet the increasing demand from overseas markets.
Lau said, "Our group's network and mobility infrastructure, cloud and big data platform, technological integration skills will complement BFR's durian farming expertise."
"Our IoT solutions will revolutionise the farming sector with its precision farming that provides accurate and real-time data on soil and water content; weather prediction; big data providing information on pest infestations, soil quality; CCTV monitoring even in remote areas, to tracking system from product to distribution."
"RISB is actively involved in driving innovation and adoption for smart farming. We are committed to growing a partnership ecosystem for technology collaboration, as we believe that this is key to maximising value and enhancing the economic vitality of smart farming projects."
"Malaysia has one of the largest durian farming areas in Southeast Asia. We are confident that farmers who face some of the inevitable challenges in their orchards, and those eager to switch to the more productive and higher quality durian farming, will benefit from our smart IoT solutions." Lau added.
Tan, who shares Lau's vision said, "BFR has always been positioned as a platform and convergence point for many activities. We are in the business of researching, cultivating, farming, planting of aquaponics, fruits trees, vegetables and herbal plants and processing of fruits and other vegetation produce."
"Hence, BFR is elated and look forward to a successful collaboration with REDtone under the MoU where farming meets technology. This collusion of cutting edge technology blending seamlessly into old school farming will bring new standards and greater heights to the agriculture landscape."
REDtone is leading the industry in offering IoT farming solutions, having teamed up with Mimos Bhd earlier this year to introduce Smart Agropolitan applications which include, among others, the Smart Greenhouse, Smart Aquafarming and Augmented Reality as part of the Digital Johor 4.0 initiative.
Source: Digital News Asia