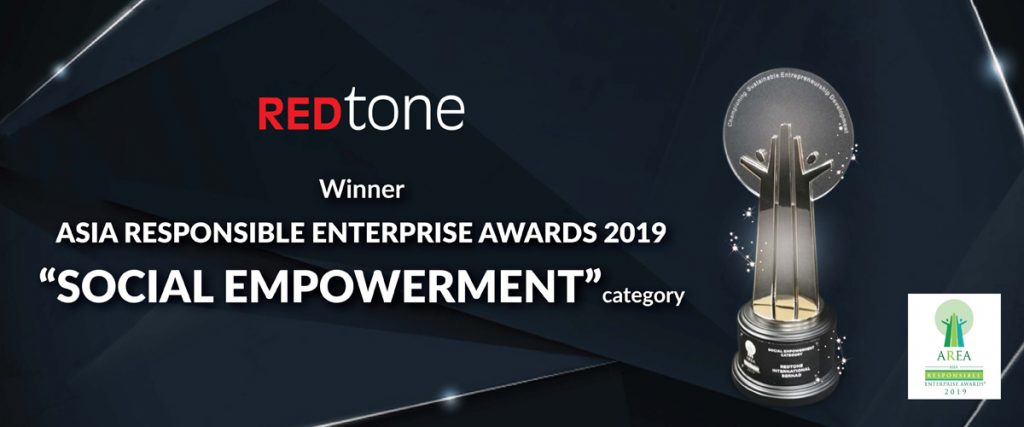 We are delighted and proud to announce that REDtone International Berhad has won yet another award. The company was named a winner in the "Social Empowerment" category at the Asia Responsible Enterprise Awards (AREA) 2019, held at the Hilton Taipei Sinban in Taiwan on 24 May 2019.
The winning submission focused on our concerted efforts to facilitate youth development through the sport of squash, specifically the REDtone Kuala Lumpur International Junior Open Squash Championship. Embracing our role as a responsible corporate citizen, we at REDtone are committed to giving back to the community and empowering youths to make a positive social impact. We truly believe that young people today are the leaders of tomorrow, which is why our CSR goals revolve around creating a sustainable platform to identify and nurture young sporting talent, and ultimately groom them into world-class squash champions.
The programme was initiated in 2012, and carried out in collaboration with the Squash Racquets Association of Federal Territory (SRAFT). To date, REDtone has been title sponsor of the Kuala Lumpur Junior Open Squash Championships for seven consecutive years. Our unwavering sponsorship and support of the tournament have helped raise its overall profile, elevating it to Platinum status which is the highest level accorded to any Asian Squash Federation (ASF) sanctioned tournament. In 2017, Malaysia became the first host country in Asia to attract more than 700 players, an achievement that was repeated in 2018, further establishing the event as Asia's largest junior tournament. The AREA award is a timely validation of our efforts in junior squash development, and will spur us on to do even better.
On winning the award, REDtone Group CEO Lau Bik Soon said:
"Receiving this award is a wonderful honour. It is also a significant milestone in our CSR journey – the first objective acknowledgement of our long-term commitment to developing youth as well as a new generation of exceptional champions and role models. Above all, it demonstrates that we take our social responsibility seriously. We look forward to continue working with all stakeholders to ensure the sustainability of the programme."
While REDtone is no stranger to accolades and recognition, having won more than 35 awards over the last two decades, the AREA award marks our very first CSR-related award. What makes this win even more special is that AREA is regarded as the top CSR awards programme in Asia. In fact, this year's edition attracted more than 200 submissions from companies in 16 countries across the region, a testament to the event's esteemed standing.
More about the Asia Responsible Enterprise Awards
The Asia Responsible Enterprise Awards programme recognises and honours Asian businesses for championing sustainable and responsible entrepreneurship in the categories of Green Leadership, Investment in People, Health Promotion, Social Empowerment, Corporate Governance and Responsible Business Leadership. It is organised by Enterprise Asia, a leading non-governmental organisation in Asia. For more information on the awards, visit https://enterpriseasia.org/area/