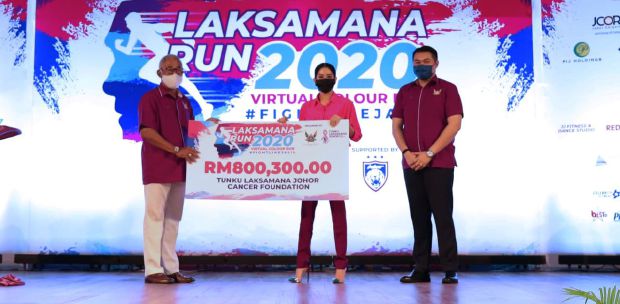 Tunku Tun Aminah (centre) receiving the cheque for the funds received during the event.- Photo courtesy of TLJCF.
JOHOR BARU: More than 2,600 runners participated in the Laksamana Run event organised by the Tunku Laksamana Johor Cancer Foundation (TLJCF).
This annual run successfully garnered support and attention from many Malaysians although it was conducted virtually in following the standard operating procedures (SOP) set by the Health Ministry due to the Covid-19 pandemic.
TLJCF's chief executive officer Mohd Ikmal Izam Zaini said that though this run was greatly affected by the pandemic, Malaysians still showed their eagerness and enthusiasm in helping cancer patients.
"Every cloud has a silver lining. Since this year's Laksamana Run took place virtually, we received participation not only from Johor, but also from all over the country," said Ikmal.This year, Laksamana Run successfully collected more than RM800,000 from their sponsors.
"We really appreciate the gracious support that we have received especially from our major sponsors, Johor Corp, WCT Holdings Bhd, Berjaya Corp Bhd, PIJ Holdings Sdn Bhd, Kumpulan Prasarana Rakyat Johor Sdn Bhd, 7-Eleven Malaysia Sdn Bhd and Dialog Group Bhd, in continuing efforts to help cancer patients," said Ikmal.
The event also received generous contributions from MMC Corp Bhd, Ranhill SAJ Sdn Bhd, REDTone International Bhd and many more organisations.
As with previous events, the Johor Royal Family gave their blessing for the Laksamana Run, especially Tunku Tun Aminah Maimunah Iskandariah who has always been Laksamana Run's royal patron.
To date, TLJCF has provided more than RM8.1 million and helped 2,000 cancer patients receive medical treatment in Johor.
Source: MSN