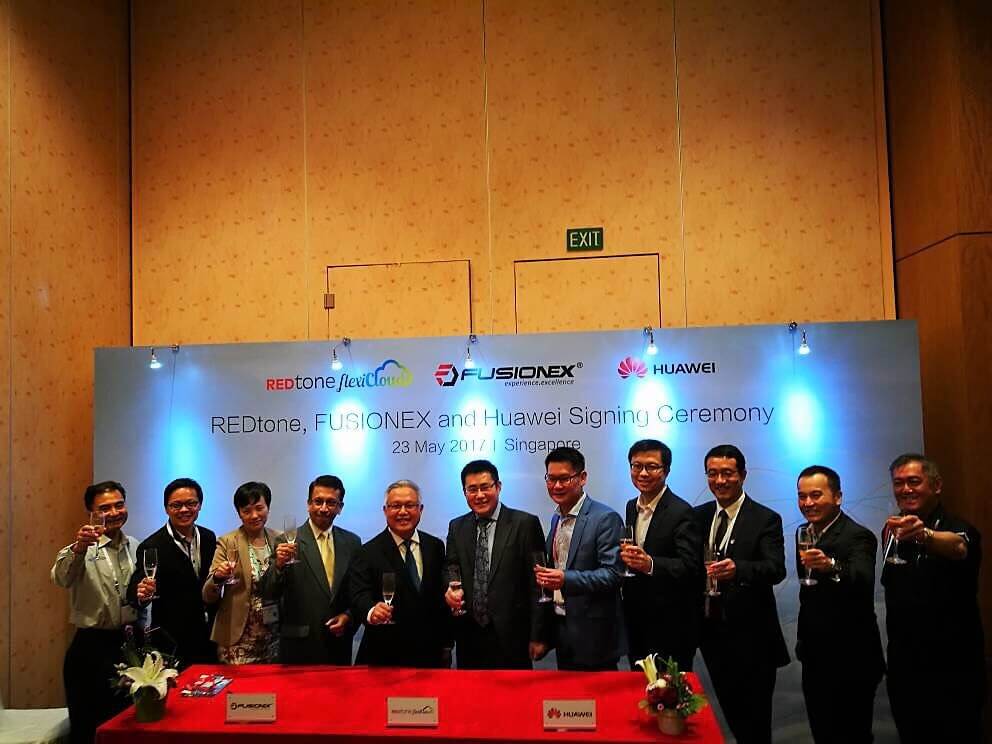 Huawei, REDtone and Fusionex Collaborate to Accelerate Cloud Transformation for Government and Enterprise Business
Huawei, REDtone and Fusionex announced the forming of a tripartite partnership to serve the rapid increase in demand for big data and analytics Cloud solutions in Asia Pacific. A Memorandum of Understanding (MoU) between the three parties was completed at the Huawei eco-Connect, Singapore, in conjunction with CommunicAsia 2017, the largest ICT trade event in the region.
According to Huawei's Global Connectivity Index 2017, a yearly survey conducted by Huawei to track key countries in their progress towards connectivity, having a robust ICT infrastructure is foundational to digital transformation. While Broadband networks and Datacenters form the basis of a digitized world, Cloud Services power the use and analysis of Big Data and Internet of Things (IoT) where actionable insights are driven.
The collaboration aims to leverage on all partners' unique expertise to intelligently identify pain points and opportunities for users while lowering OPEX and CAPEX with on-demand one-stop cloud service solution. Huawei, a global leader of Telecommunications ICT solutions, will be cloud solution provider and the Go-to-Market advisor. REDtone flexiCloud, the next generation business-to-business cloud, offers Enterprise Cloud Services that runs on the Huawei's cloud platform. Whilst Fusionex, an international software provider of analytics, big data and the Internet of Things (IoT), will contribute business insights and analytics-as-a-service to complete the full-suite of Cloud Solutions ideal for verticals including healthcare, retail and more.
"With this strategic partnership, we are moving towards swift digital transformation together with our partners and customers, as well as enabling business success of our customers by helping them to cloudify their business through our global experience and professional services. We see this as a future model of growth for enterprises in the digital era," said George Pan, Chief Technology Officer of Huawei Malaysia.
He added, "We are appreciative that REDtone and Fusionex have set their sights in helping their customers from different industries to digitalize their businesses. It excites us to launch the services with our partners beyond Malaysia through our innovative business model above IaaS, focusing on what customer want, business agility, cost efficiency and service aggregation."
"Businesses facing digital transformation are no longer "going it alone". Finding the right technology partner is mission critical. At REDtone, we leverage cloud computing, Big Data, IoT and enhanced vertical applications to facilitate enterprise digitalization towards agile and smart operations, to ultimately deliver an extraordinary experience to the customer." said Mr Lau Bik Soon, Group Chief Executive Officer of REDtone International Berhad.
Raju Chellam, Vice President of Fusionex commented: "The team at Fusionex is looking forward to deploying our Business Insights solution which harnesses the limitless power of ever-growing data. Trends and patterns within data can be discovered for more accurate, predictive and prescriptive decision making. Through this collaboration, we aim to seamlessly integrate technology into the workplace so that every organization in virtually every industry may take a quantum leap into a new stage of efficiency. When integrated with Cloud solutions, data analytics becomes even more flexible, with lower entry barriers and the ability to scale together as a business grows."
Huawei eco-Connect, Singapore, is an annual ICT gathering organized by Huawei to showcase its innovative technology and latest solutions, as well as to demonstrate successful use-cases of Huawei and its business partners in the ICT ecosystem.
Source: CommunicAsia Media Press Release