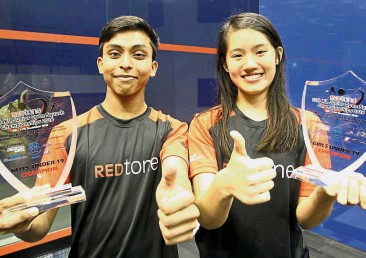 ALL SMILES: DARREN RAHUL PRAGASAM (LEFT) AND ZOE FOO POSING WITH THEIR TROPHIES AFTER EMERGING CHAMPIONS IN THE UNDER-19 BOYS AND GIRLS' CATEGORIES AT THE REDTONE KL JUNIOR OPEN YESTERDAY.
It was a memorable finish for Zoe Foo and Darren Rahul Pragasam as they nailed their first-ever Under-19 girls and boys' titles at the Redtone KL Junior Open squash championships.
It was also a superb finish for Malaysia as they clinched all 12 titles at stake in the tournament.
The 18-year-old Zoe overcame a brief lapse in the second set to beat surprise package Nur Aliah Izzati 11-8, 8-11, 11-3, 11-6 in the girls' final at the National Squash Centre in Bukit Jalil yesterday.
In the boys' final, 17-year-old Darren, fresh from completing his Sijil Pelajaran Malaysia (SPM) examinations, lived up to his top billing by thumping Singapore's Brandon Tan 11-7, 11-3, 11-3.
For world No. 107 Zoe, the week began under huge pressure as a poor showing could see her cut from the Girls' World Junior Team Championship squad next July.
"I've never won an individual title since I started studying at the Bukit Jalil Sports School (BJSS). I've only won medals from team or doubles events," said Zoe.
"So, I'm really happy to win today … it's redemption for myself and to show people that I'm still here and I can also win titles.
"I panicked a little in the second set … but I analysed the video of Aliah's semi-final win over top seed Andrea (Lee) and I played with more length to keep her away from the front.
"This win has also given me renewed confidence … I'm hoping to finish my junior career strongly," added Zoe, who will compete in the US Junior Open in New Haven, Connecticut (Dec 17-20), and the British Junior Open in Sheffield from Jan 2-6.
Darren, who only joined BJSS this year, believes that his maiden Under-19 triumph will be a boost ahead of the British Juniors.
"I'm definitely very happy to get my first title … I'm really looking forward to my first British Juniors experience," said Darren. "But my target is the World Junior Championships (next July). I can still play in two more world juniors, so I hope to win it once … winning this title is a step forward in the right direction."
Source: The Star