Managed Security Services
As the leading provider of managed security services in Malaysia, REDtone is a trusted partner of organisations across a wide range of sectors, helping them defend against and defeat security threats.
In a rapidly changing cyber threat environment, the challenges to stay ahead of perpetrators include finding, deploying and managing the latest, most advanced colocation and cloud security solutions.
From strategic consulting, emergency response services, to cloud security and 24×7 managed security services, REDtone has the capability to safeguard against even the most sophisticated threats. We protect the most complex of business environments to give you peace of mind. Protect your information and defend against next-generation security risks.
We are committed to working closely with our clients to understand their security, compliance and cost concerns. This helps us deliver solutions that perfectly fit their specific security requirements while eliminating current vulnerabilities and potential threats. We are certified ISO027001 (Info Security) for ISMS and ISO020000 for ITSMS (IT Service Management).

Emergency Response Services
Designed to provide resources to assist businesses with computer security incidents or emergency response preparation. As a result, businesses are able to reduce the impact of security breaches faster and more efficiently while gaining a deeper knowledge of such incidents and their infrastructure.

Managed Network Security Services
A network security solution to protect endpoints, applications, systems, and networks. REDtone's Managed Network Security Solutions for Firewall, Intrusion Prevention System (IPS), Unified Threat Management (UTM), Proxy, and Host Identity Protocol System (HIPS), simplifies the complexity of firewall management while increasing overall security capabilities and meeting compliance requirements. The solution was designed to help businesses reduce operational overhead associated with the day to day management of core security technologies that provide the foundational elements for the business's overall security posture.

Managed Security Information and Event Management (SIEM)
Enables businesses to have full visibility, readability and control of all the events happening within their environment. 24/7 monitoring and response by seasoned security professionals for the most complex and challenging environments ensuring that businesses are able to operate efficiently and with more flexibility to meet ever changing business demands. The solution offers real-time threat monitoring, escalation, incident reporting, and remediation assistance designed to stop and reduce the impact of security breaches.

Intelligent Log Management
A cloud-based log management service designed to provide businesses with 24/7 monitoring and protection against threats while complying with regulations that require log monitoring. This powerful solution ensures peace of mind for business owners with its flexible features and cost effective value.

Hosted Email and Web Security Services
Combats profit-reducing, brand damaging weapons, viruses, spam and spyware being directed at enterprises via a comprehensive cloud-based offering with no technology acquisitions or deployment. It helps businesses mitigate security risks by scanning and quarantining threatening emails before they reach and harm the network. The solution is also designed to help protect IT investments and productivity by reducing the threat of spyware and viruses delivered via web browsing. This cutting-edge technology enables analysis of images, text, file's etc. which reduces time wasting and keeps unwanted content away from businesses.

Vulnerability Management Services
Detects vulnerabilities across network devices, servers, web applications and databases to help reduce risk and better manage compliance requirements. This agent-less scanner, is able to scan both externally and internally of the firewall to detect vulnerabilities and provide remediation.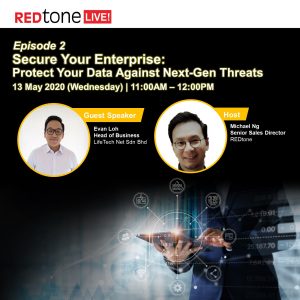 Secure Your Enterprise: Protect Your Data Against the Next-Gen Threats
Join us on Wednesday, May 13 and hear from our managed security expert, Mr. Evan Loh on how to "Secure your enterprise; protect your data against the next-gen threats". During the session, we will dive into:
The evolving threats landscape and trend

Biggest cloud security threats

The latest cyber threat amid COVID-19

Best practices to ensure continuity of critical security functions

COVID-19 exit strategy
Need help finding solutions?

Sales Enquiry


Customer Care


Lets Talk​