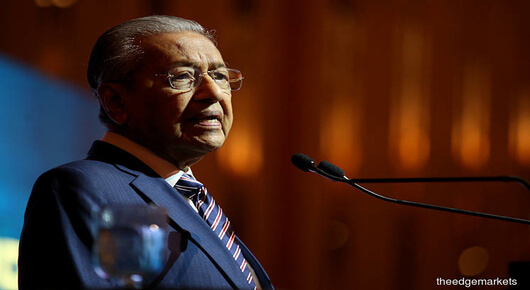 KUALA LUMPUR (Oct 17): In a bid to address the country's huge food import bill, Tun Dr Mahathir Mohamad said farmers should diversify and venture into vegetable and fruit farming as well using modern technology.
The prime minister said this is why the government has advocated mixed farming to ensure a stable and better income for them.
"They shouldn't rely on one particular crop alone for example because when the price drops, the farmer concerned will be affected," he said when opening the 22nd Annual General Meeting of the National Association of Smallholders Malaysia here today.
Dr Mahathir said many of the vegetables and fruits now being imported can be cultivated in the country, similar to what the Arab nations are doing, with the use of vertical farming technology.
This means they can produce the crops on a small piece of land but generate a huge income, he said.
"This technology is available at the Ministry of Agriculture (and Agro-based Industry)," he said.
Saying that pineapple cultivation can provide good returns, Dr Mahathir related how a lorry driver with a salary of RM1,000 a month is now earning RM1 million annually, after venturing into pineapple farming.
"The government hopes that farmers will be able to earn as much as the people working in the cities so that there is little difference in the income gap between the urban and rural communities," he said.
In his speech, Dr Mahathir reiterated the need to merge rubber and oil palm smallholdings to become big rubber or oil palm estates for higher returns.
"Management should be left to experts just like how its being done for plantations," he said, adding that the smallholders would not lose their lands and that profits would be distributed according to the size of land they contributed.
He said when merged, replanting can be done at a small portion of the  new  acreage, and that the part not under replanting can provide temporary returns pending the yields from the replanted trees.
Meanwhile, Dr Mahathir urged oil palm smallholders who have not registered for  the Malaysian Sustainable Palm Oil (MSPO) certification to do so at any Malaysian Palm Oil Board (MPOB) office. — Bernama
Credit to: The Edge Market