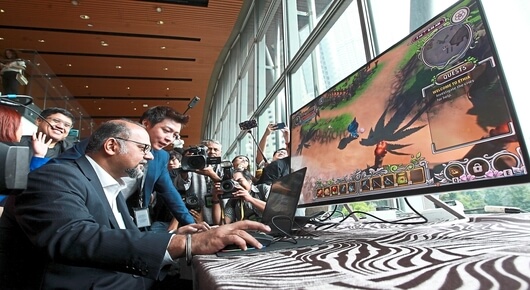 Bring it on: Gobind trying his hands on the role-playing game Re:Legend while being briefed by Magnus Games studio director Gan Dong Chee (right) at the launch of the LEVEL UP KL 2019.
KUALA LUMPUR: The Communications and Multimedia Ministry is working with the Malaysia Digital Economy Corporation (MDEC) to establish a new Digital Content Ecosystem (DICE) policy that is aimed at strengthening the local digital content industry.
Targeted to be rolled out by the end of the year, the policy will ultimately position Malaysia as the leader in digital content creation and production in the region.
Minister Gobind Singh Deo said Malaysia is poised to further grow and solidify its position as the games development hub of the region.
"Malaysia is attractive to digital content and creative tech studios due to its youthful demographic, access to talent with cultural influences from both the East and West and a higher education system that has a focused tech-track.
"The DICE Policy, to be spearheaded by MDEC, aims to accelerate the digital content creative industry as a driver of economic growth in Malaysia.
"The policy will focus on attracting investments, building local talent and companies and strengthening the ecosystem through government and private sector partnership, " he said during the announcement of the fifth edition of the LEVEL UP KL 2019 event here yesterday.
Gobind added that the policy also aims to advance research, intellectual property (IP) creation, commercialisation, branding and marketing capabilities in order to improve Malaysia's export potential.
It will also look at best practices in order to promote a healthy animation and gaming environment for all users.
The DICE strategy will focus on four key pillars namely – strengthening human capital, strengthening the industry's value chain, driving the commercialisation of intellectual property and driving the nation's ecosystem to global standards.
Malaysia's track record in digital content creation includes the animation sector where Emmy-nominated Saladin has been followed by dozens of global and regional IPs such as Upin & Ipin, Boboiboy, Ejen Ali and many more.
The national game development industry recorded exports of RM684mil in 2017, registering a 46% year-on-year growth between 2016 and 2017 from just over 60 game studios in this sector.
Credit to : TheStar