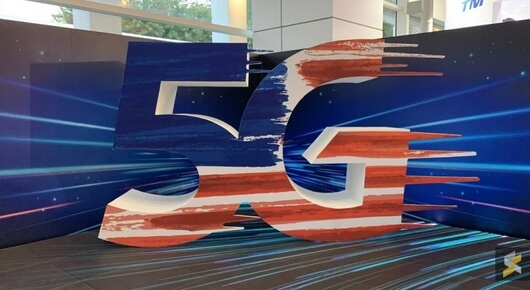 Gobind Singh, the Malaysian Minister for Communications and Multimedia has announced that the 5G testbed areas will be expanded beyond Putrajaya and Cyberjaya. This will include five more states such as Selangor, Perak, Terengganu, Kuala Lumpur and Kedah.
Just last week, Celcom has announced its 5G live cluster field trial which will cover an area of 1.22 sq km for a period of six months. This will cover PJ Seksyen 14, Menara Celcom, Crystal Crown Hotel, MBPJ Tower and Taman Jaya LRT station. With this announcement, we can expect similar trials to be conducted in more states very soon.
It was also revealed that the MCMC has received 5G proposals from 11 companies covering various verticals which include agriculture, education, entertainment, healthcare, manufacturing and process industries, oil and gas, smart city, transportation and tourism. A total of 66 5G use cases have been identified by both the Government and private sectors with an estimated industry investment of RM50 million.
5G Spectrum
It also added that a Public Inquiry (PI) on the allocation of spectrum is currently ongoing and it will end by 30th August 2019. The findings will be considered for a spectrum roadmap for Malaysia which is expected to be finalised by the first quarter of 2020. At today's event, the 5G Task Force has revealed other spectrum bands that are identified and recommended for 5G use.
This includes the mid-band 3.3GHz to 4.2GHz, which is the C-band spectrum and the usage of 5G will have to co-exist with fixed-satellite services. Another spectrum identified is the mmWave bands of 26GHz and 28GHz. In Celcom's current 5G trial in Petaling Jaya, they are utilising 3.5GHz for indoor coverage and 28GHz for outdoor coverage at 5 sites.
5G Health Concerns
The Task Force is also taking health concerns in regards to 5G and its radio frequency emission seriously. Based on their current check and field measurements conducted by telecommunications operators, the emission from towers are within the safe limits and they comply with the Mandatory Standard on Electromagnetic Field (EMF) Emissions. As highlighted previously, the EMF emissions from radiocommunications infrastructure are categorised as non-ionising and it doesn't have enough energy to break or interfere with the molecular structure of a human body.
According to MCMC Chairman, Al-Ishsal Ishak, the MCMC will continue to work closely with ministries, key industry partners across various verticals, small and medium-sized enterprises and start-ups to address the challenges in accelerating 5G implementation in Malaysia. The 5G Task Force will conduct a public consultation in August to obtain feedback on the findings before finalising and submitting the final report to the Government by the end of this year.
Source: soyacincau