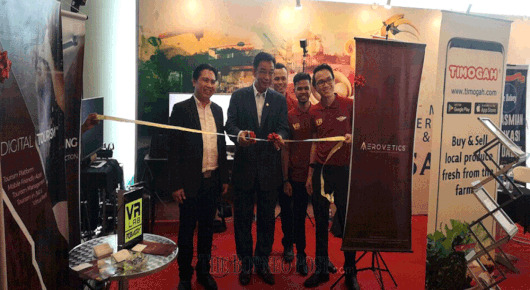 KUCHING: Minister of Tourism, Arts, Culture, Youth and Sports Datuk Abdul Karim Rahman Hamzah hopes that digital technology such as Virtual Reality (VR) will revolutionise the way the tourism industry operates in future.
Speaking during the Beyond Paradigm Summit 2019 held at a hotel here last week, he said through VR technology tourists will be able to experience the destination of their choice even before making the trip.
"This technology is especially helpful for elderly group of travellers who wish to travel to adventurous destination such as caves, underwater, mountainous areas and rainforest but are limited by their physical ability, health and age. Hence the VR technology would be able to give them the immersive personalised experiences as if they were there," he added.
During the event, Abdul Karim was introduced to a VR technology for tourism hotspots in Sarawak.
According to the technology's creators, the VR creation was in line with the state government's vision to position Sarawak as a major tourist destination by using digital technology.
The VR digital technology was founded and developed by Aerovetics Sdn Bhd (Aerovetics), a Sarawak company, to promote Sarawak Digital Tourism through the usage of their VR platform.
According to Aerovetics spokesperson Shawn Mckenzie, the term 'Digital Tourism' means the use and application of digital tools to improve and support tourist experience.
"With ultra-vibrant colours and uber-realistic sounds, the VR technology delivers realistic experience unlike any other as it creates an immersive world that transports the user to any scene in split seconds. The two-day exhibition sees several users experience the immersion of several hotspots that can be found in Sarawak such as the Floating Mosque or Masjid Darul Hana, the Darul Hana Bridge, the Old Court House and the Old Kuching Heritage," said Shawn.
Credit to: Borneo