"The digital revolution is upon us at lightning speed, so we must embrace and adapt to change."
Prime Minister Datuk Seri Najib Tun Razak highlighted this at the closing of the 28th MSC Malaysia Implementation Council Meeting (ICM) recently, prior to revealing the government's effort to continue to drive Malaysia's digital growth by making 2017 the 'Year of Internet Economy' for Malaysia.
The digital growth across the globe has grown exponentially in recent years, influencing our everyday lives in many ways to the point that it has become a daily necessity, particularly for modern-living, urban-dwellers.
The development of information and communication technologies (ICT) in a country has also been identified as strongly correlated with economic growth and productivity.
"Information technologies permeate our lives, and have tremendous potential when strengthening development," the World Bank said.
Its country director and resident representative in Russia, Andras Horvai, said that much of the world is reaping digital dividends today: companies benefit through economic growth, people benefit through new jobs, and governments are enabled to deliver better services.
"Digital economy and entrepreneurship are interrelated, and they are going to drive the development of not only the Malaysian economy but also that of the world," Treasury Secretary-General Dr Mohd Irwan Serigar Abdullah was quoted as saying by Digital News Asia at the Road to GECommunity event today (part of the lead-up to Global Entrepreneurship Community 2016).
He had noted that Malaysia's digital economy currently contributes 16.3 per cent to Malaysia's gross domestic product (GDP) and a thriving digital economy has the ability to contribute some 20 per cent to the GDP by 2020.
However, ensuring that the benefits reach everyone will need deliberate effort: the full benefits will only be reaped by further inclusion.
Hence, in Malaysia, the government as well as various government and non-government agencies are stepping up their efforts to push ICT throughout the nation by ensuring infrastructures are available for digital growth and Malaysians are properly equipped with the knowledge of ICT to reap the benefits a connected digital world can offer.
Of note, currently, based Malaysian Communications and Multimedia Commission's (MCMC) statistics, Malaysia's broadband penetration rate has reached 76.7 per 100 households in the second quarter of 2016 (2Q16), an increase from 70.4 per 100 households in 2Q15.
To further push the digital reach across the nation, for Budget 2017, Najib had announced various measures and allocations to the ICT sector.
Some of the measures include the allocation of RM162 million, through Malaysia Digital Economy Corporation (MDEC), for the implementation of programmes such as e-commerce ecosystem and Digital Maker Movement as well as the introduction of new location category as Malaysia Digital Hub.
He also revealed that the Government will also introduce the first Digital Free Zone in the world which is said to merge physical and virtual zones, with additional online and digital services to facilitate international ecommerce and invigorate internet-based innovation.
He also announced the expansion of broadband speeds effective January 2017.
"Within the next two years, for this package, the speed will be doubled with the reduction in prices by 50 per cent.
"In addition, the government will launch an initiative for ethernet broadband services in public universities to be increased to a maximum 100 gigabytes per second.
"At the same time, Malaysian Communications and Multimedia Commission (MCMC) will provide RM1 billion to ensure the coverage and quality of broadband nationwide reaches up to 20 megabytes per second," he added.
Not left out of the digital race, Sarawak's digital growth has also grown throughout the years.
According to MCMC's satistics, in Sarawak, the broadband penetration rate has reached 53 per cent in 2Q16.
Earlier this year, Najib announced that the government will invest in several enhancement projects over the next few years to improve the communication services throughout the state.
With that, BizHive Weekly takes a look at the digital drive in Sarawak.
Setting up the foundation for ICT in Sarawak
In Sarawak, the current broadband penetration is at 53 per cent. Over the next five years, Sarawak's government aims to reach minimum target of 95 per cent broadband penetration rate across the state.
"Although this is an ambitious target, with hard work and continuous strong support from the state government we are confident of delivering this objective," Sacofa Sdn Bhd (Sacofa) deputy chairman Datuk Syed Ahmad Alwee Alsree said recently, during Sacofa's 15th Anniversary Dinner.
According to the state telecommunications infrastructure provider, Sacofa needs to provide eight to 10 per cent growth in penetration rate per year for the next five years to meet the target of a minimum 95 per cent.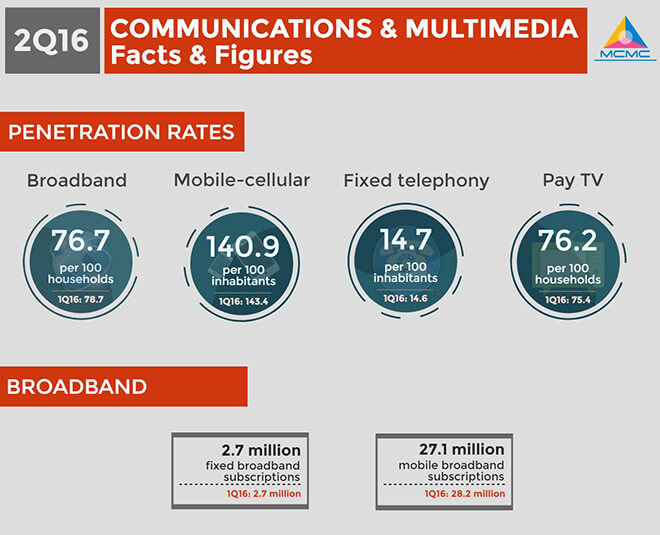 Syed Ahmad also highlighted that about RM1 billion is needed to install more telecommunication towers and to lay more fibre optic cables as well as other infrastructural support to achieve this target.
Sacofa had submitted a comprehensive plan to the authorities to fiberise all the remote and underserved areas at a cost of approximately half a billion ringgit.
Apart from that, Sacofa is committed to spending approximately another half a billion ringgit to further enhance its existing network across the state, he added.
"To date, Sacofa has over 1,000 towers already in place and more than 10,000 kilometres of fibre optic cable laid. This was done with proper planning and taking into account (keeping an) aesthetically pleasant environment.
"We are talking about connecting a landmass that is almost comparable in size to the entire landmass of the Peninsula, but having only one-tenth of the population at just over 2.5 million people," Syed Ahmad had pointed out.
He also noted Sacofa was formed in 2001 to meet the state government's objective to rapidly expand telecommunications infrastructures in Sarawak, to ensure reliable communication services are available to as many people as possible at affordable rates.
He also reiterated that Sacofa is not just a company that builds telecom towers, but monitors and maintains the integrity of those towers since Sacofa is an integral component of Sarawak's master plan to drive socio-economic development.
"The backbone of any socio-economic development is communications connectivity, accessibility and stability. Without quality communications infrastructure, the economy would grind to a halt.
"Almost everything we do today relies on connectivity in one form or another and that's what Sacofa ensures," he said.
Meanwhile, Prime Minister Datuk Seri Najib Tun Razak had earlier this year ensured that Sarawak's digital growth remains one of the government's main agendas.
During his visit in March this year for the launch of the 'Malaysian National Digital Inclusion (Minda) programme here, he pointed out that enhanced wifi coverage and high speed broadband services will play a key role in promoting the digital economy in Sarawak, encouraging the rapid growth of e-learning, e-government, e-banking and e-commerce.
"The connectivity recovery plan in terms of cellular phone for Sarawak is ongoing. RM290 million has been approved for this first phase. We aim to achieve 85 per cent coverage," he said.
Najib added that highspeed broadband services would also be further enhanced up to 10 megabits per second (Mbps).
"That is our target for the urban areas. For rural areas, our target is 4Mbps to 10Mbps. This is what we will do in Sarawak. With highspeed broadband, we can have better voice and network data. It is to help e-learning, e-government, e-banking, e-commerce and so forth," he said.
To implement the second phase, Najib said at least RM1.8 billion would be required.
Acknowledging that the figure is significant, he said Public Private Initiatives would be used.
He said the government through the Malaysian Communications and Multimedia Commission (MCMC) is also in the process of widening cellular and WiFi coverage in Sarawak.
Towards this end, he added that 150 communication towers and 438 WiFi spots would be established by MCMC in collaboration with telecommunication corporations Celcom, Digi, Maxis, RedTone and Measat.
"Besides, we are also constructing an undersea cable which is expected to be completed in three years at a cost of RM850 million," he added.
On that note, Minister for Industrial and Entrepreneur Development, Trade and Investment Datuk Amar Awang Tengah Ali Hassan had earlier this year, noted that the Ministry of Public Utilities adopted a three-pronged strategy to
further reduce the digital gap in the state.
He added, led by Sacofa, the first phase of this strategy is to develop the Trans-Borneo Super Highway in collaboration with Brunei for a high speed broadband network from Sarawak to Sabah.
As for the second phase of this strategy, Awang Tengah noted that Sacofa will develop a high speed broadband network in Kapit town, Sungai Asap Resettlement, Limbang, Lawas and Marudi to enable the people there to enjoy 3G and 4G/LTE services.
Subject to financial resources, the third phase is to step up the quality of broadband to reduce usage of Very Small Aperture Transmission (VSAT ) in remote areas, he added.
Giving by educating
As the government goes in full gear to set up the infrastructural foundations of ICT across East Malaysia, it is also equally as important to equip its people with the proper knowledge of using ICT to facilitate and/or improve their daily livelihood.
More recently, across East Malaysia, ICT agencies nationwide are stepping up to the plate to spearhead more campaigns and programmes in Sarawak, especially in rural areas, to boost the proliferation of technopreneurs and to increase the usage of ICT in the state.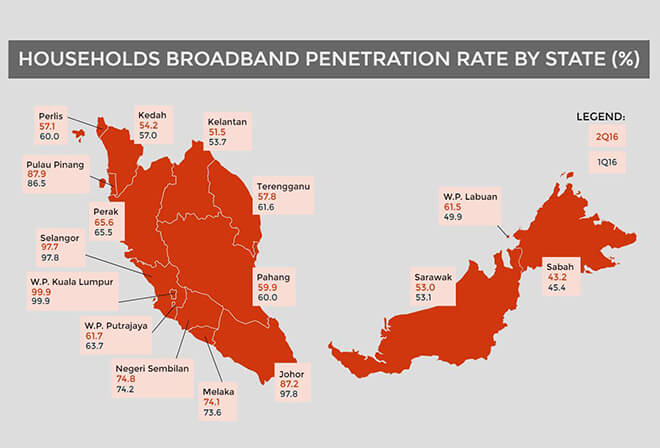 Earlier this year, Malaysia Digital Economy Corporation Sdn Bhd (MDEC) introduced a national campaign called '#YOUCANDUIT' in an effort to improve the livelihood of the Bottom-40 per cent household with income of less than RM4,000 group (B40) as well as to inspire digital entrepreneurship among Technical Vocational Education and Training (TVET) students and micro entrepreneurs.
The eRezeki and eUsahawan programmes are the pillars of this campaign with proven successful track record that can be replicated.
MDEC's chief executive officer (CEO) Datuk Yasmin Mahmood said, "In this day and age of digital economy, there are countless income-generation opportunities to be had online and we have been working diligently to create paths to success for the rakyat. With this campaign, MDeC is reaching out to the B40s, TVET students and micro entrepreneurs and we are telling them to get online and grab those opportunities because #YOUCANDUIT!"
The first eRezeki centre in Sarawak was opened earlier this year in Kota Samarahan and it is expected serve to guide and nurture the B40 group in their journey as digital workers.
Other than the eRezeki centre, Sarawak also has 3 eRezeki Representatives located in Kuching Community College, Miri Community College and Mas Gading Community College.
According to MDEC, eUsahawan and eRezeki are at the core of the #YOUCANDUIT campaign.
The eUsahawan is an initiative by MDeC to prepare Malaysian youths and micro-entrepreneurs to tap the economic opportunities provided by digital technologies. It is an initiative to institutionalise digital entrepreneurship via TVETs, is in line with Malaysia's national aspirations to strengthen the position of TVETs as an alternative pathway to quality higher education, as well as to evolve our graduates from being job seekers to job creators.
In 2015, MDEC noted that participants of the eUsahawan programme garnered over RM3.5 million in revenue and this year the total revenue is expected to grow significantly due to the plans for accelerated growth.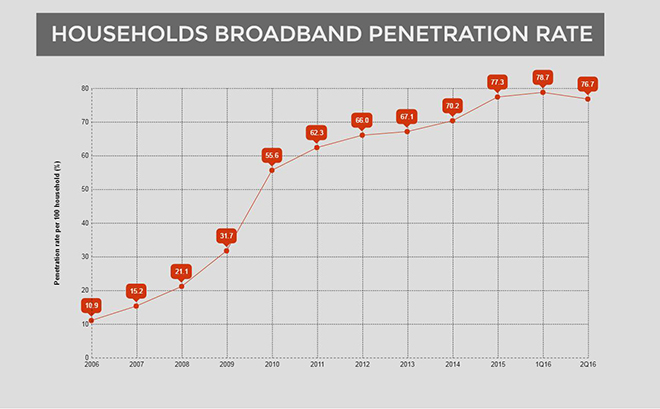 "Through the eRezeki programme, the B40 community can earn supplementary income by registering to the programme and completing tasks from reputable international companies offered through the online 'eRezeki' portal," MDEC added.
The eRezeki programme had also garnered a total of RM11 million in additional income for its participants in 2015.
With the introduction of new focus tracks to the programme, the eRezeki programme is expected to generate up to RM21 million in 2016.
Following the launch of the '#YOUCANDUIT' campaign in Kuching, MDEC expanded the programme to Sabah.
Speaking at the launch of the programme in Sabah, MDEC's chairman Tan Sri Sidek Hassan urged the public to participate in the #YOUCANDUIT programme to gain the knowledge of ICT in order to capture opportunities the digital world has to offer.
"In this age of technology transformation, it is important to grab this opportunity and make an impact to the digital economy," he added.
To boost MDEC's eRezeki and eUsahawan campaigns further, Malaysia's government allocated RM100 million to revitalise the programme as announced in the Budget 2017.
On that matter, Yasmin commented, "The eRezeki and eUsahawan initiatives were launched last year to target key communities such as youth, SMEs, digital entrepreneurs and the B40, with an initial allocation of RM100 million.
"These initiatives have benefited 100,000 Malaysians and we expect more people to benefit in the coming years.
"With the government allocating RM100 million, we will be able to drive these initiatives further and encourage greater cross collaboration to support our nation's digital inclusion programmes."
Teachers in the ICT world
With a population of more than 31 million as at July 2016, it is near impossible for ICT agencies to reach each and every individual in Malaysia, to educate them on the usage and benefits of ICT.
However, Malaysian Communications and Multimedia Commission (MCMC) has come up with a solution to this problem by offering ICT courses and trainings to volunteers who intend to educate their community on the proper usage of ICT to support their livelihood.
Through the Malaysia ICT Volunteer (MIV) Programme, people living in the vicinity of nine 1Malaysia Internet Centres (PI1M) are being groomed to become digital citizens.
The MIV Programme is a creative platform where Malaysians are recruited from different backgrounds to teach, guide and empower individuals and communities to improve their digital literacy and become smart digital citizens.
According to MCMC, the MIV programme interacts with four focus groups, namely with the community, students at the institutions of higher learning, international ICT volunteers (IIV) and school teachers.
The MIV programme was officially launched here in Kampung Pandan, Lundu, Sarawak, with the first phase completed late February.
The nine centres involved besides Lundu are Samarahan, Simunjan, Betong, Kanowit, Mukah, Song, Miri and Bau.
MCMC senior director of advocacy and outreach division Eneng Faridah Iskandar commented, the MIV with Community project was an ICT volunteer programme that focuses on increasing digital literacy among the community to maximise ICT benefits for themselves and their community.
Volunteers share, impart knowledge and promote the positive use of ICT among the community in the hope of supporting the nation's move towards a Smart Digital Nation, which can generally be described by six key elements including smart people, governance, living, economy, mobility and environment.
"Currently, MCMC has appointed 40 MIV volunteers from the 117 applications received. The volunteers are placed at nine 1Malaysia Internet centres (PI1M) throughout the state to help people especially those in the rural areas to learn and intensify the use of information and communication technology (ICT) especially in the development of society.
"It is important to train these volunteers so that they can provide knowledge and also train the local communities to utilise ICT for beneficial purposes," she said.
At a recent media session to share updates and key learning experiences, Eneng noted that the volunteers are recognised as the 'nucleus of change' as they engage, impart knowledge and train the communities to embrace ICT, apply and practice it locally for their own needs, products and services.
Apart from the community, other focus groups for the MIV programme include undergraduates and graduate students in Malaysia's Institution of Higher Educations, international ICT volunteer and school teachers.
Its future projects include MIV with Community Phase 2 (August 8 to September 5), MIV with IHE in Conjunction with MIV with Community Phase 3 (November 1 to 30), MIV with School (August to September), and MIV with IIV (July 11 to August 19.
There are 124 centres state-wide with 112 of them operational centres and the remaining 12 newly established.
Meanwhile, MCMC also hoped to send ICT-savvy Malaysian volunteers abroad to impart digital literacy knowledge to other communities.
Recently, MCMC noted that Malaysia played host to Korean volunteers in the International ICT Volunteer (IIV) programme, which aims to promote the use of ICT for sustainable development as well as to provide volunteering opportunities to gain and share ICT knowledge and experience.
According to the agency, the IIV was initiated by International Telecommunication Union (ITU) with National Information Society Agency (NIA), in partnership with multiple stakeholders like government and non-governmental organisations (NGOs).
Under the Malaysia ICT Volunteer (MIV) with IIV, three teams of Korean volunteers were placed at each of the 1Malaysia Internet centre in Pulau Pangkor, Perak; Kampong Rampayan Laut in Kota Belud, Sabah; and Kampong Pinang in Kota Samarahan.
As more agencies step up their efforts in expanding their ICT reach across Sarawak, the state looks closer than it was before, in reaching the nation's goal of becoming a Smart Digital Nation by 2020.
Source: The Borneo Post