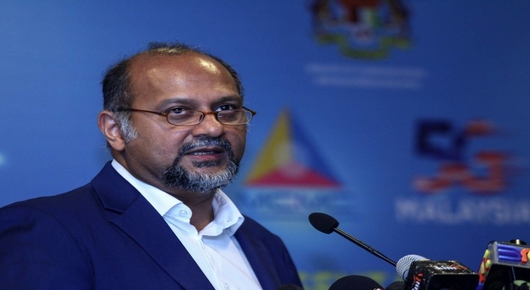 PETALING JAYA: The Cabinet has approved the implementation of the RM21.6bil National Fiberisation and Connectivity Plan (NFCP), says the Communications and Multimedia Ministry.
Its Minister Gobind Singh Deo said the five-year plan starting this year will provide nationwide digital connectivity that is high quality and affordable for all Malaysians across the urban and rural divide.
"The NFCP's main targets include the provision of an average speed of 30 Mbps in 98% of populated areas and gigabits availability in selected industrial areas by the year 2020 and all state capitals by 2023," he said in a statement on Wednesday (Aug 28).
He said the Cabinet views the NFCP, part of the nation's preparedness for the Fourth Industrial Revolution, as a crucial infrastructure project and a strategic effort to enhance the economic competitiveness by bridging the digital gap.
Gobind lists a number of communities and sectors that would benefit from the high-speed broadband connectivity including schools, Felda community, indigenous community, small and medium enterprises, state capitals and more.
"Overall, the government hopes that through the NFCP, the living standards of the people will improve and new business models will emerge, leading to more high-paying job opportunities and career prospects," he said.
"The RM21.6bil cost of implementing the NFCP will involve the infrastructure projects in targeted areas that are expected to provide a positive boost to the country's economy, especially to service providers, small contractors and suppliers," he said.
Gobind said it will be financed through the provision of the Universal Service Provision (USP) Fund, regulated by the Malaysian Communications and Multimedia Commission (MCMC), and commercially by the service provider.
"The methods of financing via USP Fund that would be considered are in the form of full fund, matching fund or partial fund to eligible parties," he said, adding that this financing method will save cost.
The Puchong MP said NFCP projects will ensure equal access to the internet for both urban and rural residents and benefit those who otherwise not have the opportunity to participate in the digital economy.
He said a special task force chaired by the Ministry and comprising related agencies will be set up to coordinate the construction of digital infrastructure in schools, police stations, hospitals and libraries.
"The task force will ensure that the existing digital infrastructure is optimised, while reducing duplication and cost of building new digital infrastructure in these selected institutions," he said.
He added that the NFCP project is expected to be launched in mid-September.
Credit to: TheStar