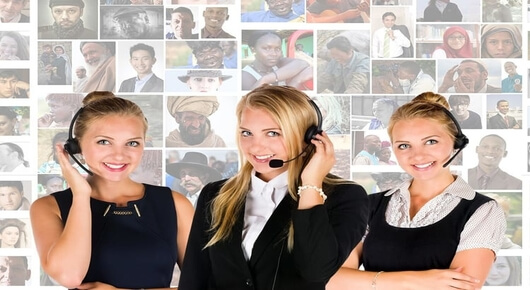 The wave of the digital revolution is touching almost every aspect of our lives. This is the digital age, where successful customer interaction is every business weapon. The bombardment of newer technologies, myriad apps have changed the way business used to interact with its customers.
One such technology that we are going to discuss today is VoIP — Voice over Internet Protocol, also called IP telephony. The global market for VoIP is expected to boom to $140 billion by 2021, an increase from $83 billion in 2015.
This technology is going to rule 2019, and it's quite obvious because of the exciting benefits such as scalability, flexibility, and efficiency it has got in its bucket. With time this technology continues to evolve, ultimately leading more business adopting this technology.
So if you are one of those people who are planning to transit from traditional telephony, then VoIP should be your one-stop solution.
Virtual PBX Phone Systems: A leading VoIP solution
Usually, traditional telephone numbers are associated with a single telephone line and a single number. However when you have VOIP services with Online phone numbers in your pocket the phone number to the phone line ratio is no longer 1:1. For example, if you have a virtual PBX phone system, you can have one phone number with ten lines or can have 20 numbers and three telephone lines. It's absolutely your choice. Make and receive calls from any corner of the world.
They are extremely useful for making long-distance calls, which can otherwise cost you a hefty amount. If you are a small business or a startup, you would obviously not want to spend all your funds in these expensive calls. These Cloud-Based virtual Phone system will not only benefit you but are cost-effective for your callers as well, which will ultimately help to improve your customer service potential.
Long story short, if you have a home office in London and your customers located in New York, all you need to do is purchase local New York virtual numbers to facilitate "local" customer support.
By getting yourself a local virtual Phone number, you can eliminate all the hassles and associated with toll-free numbers. Not only your customers, but you can also easily connect with your business partners and loved ones who are thousands of miles away using Cloud-Based Virtual Phone Systems and minimize the cost associated with International Calling.
You can now answer all your calls
If you are using this technology, no calls will now go answered.  Virtual PBX phone systems are equipped with call forwarding technology which routes the incoming call to the right customer service professional. This way, you are providing your customer with instant remedies, and the issues are resolved as they happen. Errors are eliminated, and you have a happy and satisfied customer promoting your business through word of mouth.
One another option is to outsource the customer support team to a third party who can attend the calls in all time zones. This makes your service available 24*7 in every corner of the world.
Maximize your productivity with Cloud-based Virtual Phone system as less time is wasted on voicemail and calling back customers. As per research companies with unified communication are saving 191 hours a day and 49660 hours a year.
You can engage with your customers in a better way
For a business, its customers are its lifeline, and to provide them with the best service should be the topmost priority. It is believed that by 2020, customer service will be a number one brand differentiator surpassing price and product. 86% of customers will pay more for better customer experience.
Companies that are struggling with customer service should definitely resort to VOIP solutions. Employees today have more information about their customers as a result of which problems are resolved quickly, which prevents customer complaints from escalating to higher authorities and turning into disputes.
You can save a lot of money on customer service management
Customer support teams can even work from home and reduce additional overheads on office supplies, utilities, staff expenditure, employee benefits program, etc. This way, companies can save thousands of dollars a year. Dell saved $39.5 million and reduced energy emissions by allowing their employees to telecommute from home.
Sending voice over data is much cheaper than making a call from a landline. The average monthly cost for a VOIP solution is just $25 when compared to a traditional telephone line, which is $50. Some businesses can save 75% when they switch from traditional telephony to VOIP solutions.
In a nutshell
To maintain your position in the extremely over the competitive market you need to update yourself with recent trends and technologies and trust me getting a virtual Phone number for your business will be a decision you will never regret. So buck up and improve your companies bottom line result with this booming technology
Credit to: azbigmedia